Endometriosis UK Online Support Groups
Endometriosis UK Online Support Groups take place using Skype. The purpose of these groups is to provide a support and information to women who don't have access to a local support group and feel isolated.
Each month our trained Online Support Group leaders choose a topic to focus on and discuss with group members.
Catherine, Rhea and Katy are the Support Group Leaders for the Online Support Group.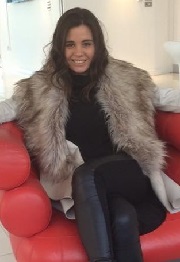 My story: I was diagnosed with stage 4 severe endometriosis in 2011 after 7 years of misdiagnosis in a London hospital. Thankfully I was referred to some specialists at Royal Surrey Hospital. Both my bowel surgeon and gynae surgeon performed what they called pioneering surgery on a woman of my age. I lost 10 inches of bowel, my left fallopian tube – had much work on my pelvis to name but a few things. Unfortunately, I haemorrhaged twice and had to have 2 blood transfusions. My recovery was approx. 6 months whilst trying to hold down a full time job, relationship as well as all those other commitments being a woman . It was a struggle but I got through. Endo still throws obstacles at me but I am finding ways to get around it and will continue to do so… My experience of the disease prompted me to try and help other woman and show them that I am living proof you can get through. Rhea
My story: I was finally diagnosed with endometriosis in 2008 following many years of wrong or inconclusive diagnoses. I'd had problems with my periods since I was a teenager (a long time ago!) so maybe this was the problem all along. Now with a mix of surgical and hormonal treatment and lots of self care my health is much more stable. I started running online groups in 2013 and still enjoy organising the meetings and getting to talk to lots of amazing women and our expert guests. We all help each other. - Catherine 
My Story:I was diagnosed with endometriosis about 8 years ago but have suffered symptoms for 25 years. My symptoms have changed since having two children and in some ways are 'better'; however, I have different symptoms more often these days which impact my life in different ways.With my eldest son starting school I have a little bit more free time and wanted to use it for something that would make a difference to others. - Katy
Who are the meetings for?
Anyone who is looking for information, support and comfort from other sufferers can join in with our group. Everyone will have the opportunity to join in and get involved in an informal fashion. We will also invite speakers to the group to discuss certain topics.
Please don't be afraid to join in - you are not alone in this. We look forward to meeting you. 
How do I join an Online Support Group?
If you would like to join the Online Support Group, please email your name, skype username and the email address it is registered to, along with your phone number to support@endometriosis-uk.org.
The next meeting will take place on the following date:
Date
Time
Topic
Monday 9th April
8:00pm-9:00 pm

Newly diagnosed - Our regular meeting just for women who have had a recently confirmed endometriosis diagnosis. This meeting is not suitable for women who have been diagnosed for some time.

Meeting Leader - Rhea

Monday 23rd April
8:00pm-9:00pm

Understanding Treatment Options with nurse specialist, Debby Holloway.

Meeting leader - Katy

Please be aware that our support services are unable to provide medical advice and can only talk about endometriosis based on their own experience. If you need medical advice, please contact your GP or endometriosis specialist.Looking for medical advice?