Endometriosis (pronounced en- doh – mee – tree – oh – sis) is the name given to the condition where cells similar to the ones in the lining of the womb (uterus) are found elsewhere in the body.
Each month these cells react in the same way to those in the womb, building up and then breaking down and bleeding. Unlike the cells in the womb that leave the body as a period, this blood has no way to escape. 
In the UK, around 1.5 million women and those assigned female at birth are currently living with the condition, regardless of race or ethnicity. Endometriosis can affect you from puberty to menopause, although the impact may be felt for life.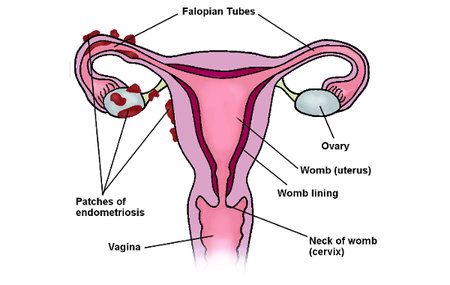 During the menstrual cycle, the body goes through hormonal changes each month. Hormones are naturally released which cause the lining of the womb to increase in preparation for a fertilized egg.  If pregnancy does not occur, this lining will break down and bleed – this is then released from the body as a period. 
In endometriosis, cells similar to the ones in the lining of the womb grow elsewhere in the body. These cells react to the menstrual cycle each month and also bleed. However, there is no way for this blood to leave the body. This can cause inflammation, pain and the formation of scar tissue.
Endometriosis can have a significant impact on a person's life in a number of ways, including:
Chronic pain
Fatigue/lack of energy
Depression/isolation
Problems with a couple's sex life/relationships
An inability to conceive
Difficulty in fulfilling work and social commitments
However, with the right endometriosis treatment, many of these issues can be addressed, and the symptoms of endometriosis made more manageable.
It's important to remember that:
Endometriosis is not an infection
Endometriosis is not contagious
Endometriosis is not cancer
As a charity, Endometriosis UK relies on support from people like you. If you found this page helpful please consider making a donation. Thank you.