Pink Pants Month is back – here's how to get involved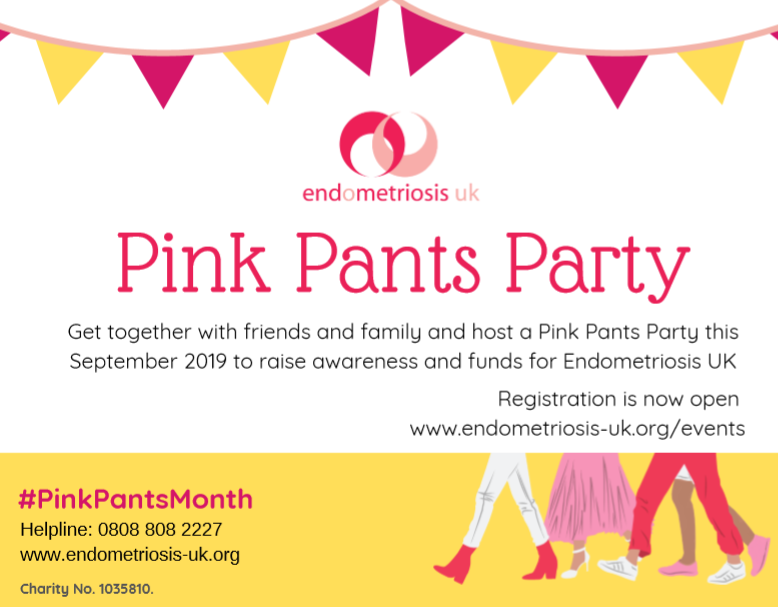 With Pink Pants Month just around the corner, we caught up with one of our incredible fundraisers Dani Aston on why she's getting involved for the second year in a row.
Don't forget to register your own Pink Pants Party on our website here, and we'll send you a Party Pack to get you started.
What inspires you to get involved with Pink Pants Month?
Since diagnosis and learning more about endometriosis, I've wanted to get involved and give something back. I participated in the Santa Run in London but wanted to host a tea party for Pink Pants Month to involve family, friends and neighbours to further increase awareness. I also love baking so thought it was a perfect opportunity! 
How do you get involved with Pink Pants Month?
I hosted my first Pink Pants Tea Party last year in our garden and really enjoyed it. We raised £420 and all money went to Endometriosis UK via JustGiving. I also helped out at the Pink Pants Tea Party run by the North Essex Endo Support Group which I have been attending when I can since diagnosis in 2017. 
I'm currently in the process of arranging another Pink Pants Tea Party for this year and hoping to include a raffle this time too! 
Do you have any great tips for other people looking to host a Pink Pants Party?
Do register your event online via Endometriosis UK to receive your free fundraising pack. It includes different resources and information to make your party extra special. We made some decorations, bunting, a selfie frame and our guests also contributed their home baked treats. There was a lot of variety and we were lucky enough to have a sunny day! 
Finally, what message would you send out to people living with endometriosis?
I have found it really helpful joining a support group as well as sharing with others who do not have endometriosis. Do keep talking about endometriosis to help others understand and continue to find management strategies that work best for you. We were told in a session the following quote too: You are braver than you believe, stronger than you seem, and smarter than you think. - A. A. Milne