Pink Pants X London Challenge 2016
Join us this year for our Pink Pants X London challenge and walk from west to east London in style!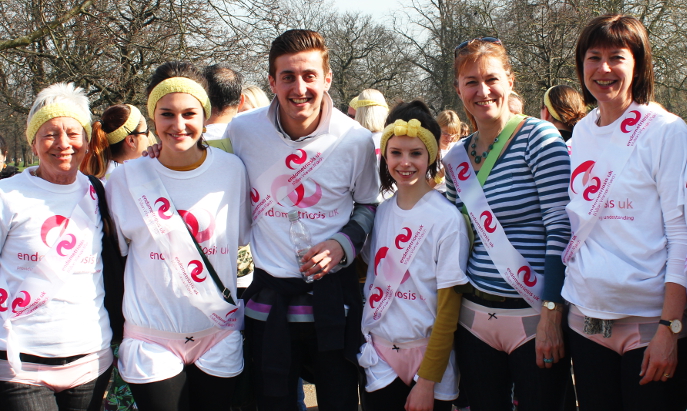 Date: 1st October 2016
Place: London
Distance: 23 miles
Average walking time: 10-11 hours.
Intensity level: Moderate
About the Pink Pants X London Challenge
Join us for our cheeky challenge as we walk across London in our flagship Pink Pants event - special DiaryDollTM pink pants available if you'd like! 
The route this year will start in Richmond and head towards East London through the old docklands, across Tower Bridge, via the City and The Monument. We'll then continue along the Southbank, and owards to the West End, The House of Parliament. 
The Pink Pants X-London Challenge is an excellent opportunity to see famous London landmarks and to meet other women who have similar experiences of endometriosis, to bond with and achieve something fantastic together.
What are Pink Pants Challenges?
Why fundraise for us?
Our fundraisers mean the world to us and are vital in helping us provide support and information to women with endometriosis. 
The money raised from your support will help us continue to provide vital support and high quality information to those affected by endometriosis. We receive minimal funding to run our support groups and free helpline service, every penny you raise will help make a difference. 
From start to finish, we'll be with you every step of the way. When you fundraise with us you will receive:
Dedicated support from our fundraising team
An Endometriosis UK t-shirt
Fundraising advice and materials
Regular email updates
Encouragement and cheering on the day!
Find out more about how to meet your fundraising target.
Sign up
We would love for you to join us, so please sign up today!
Any questions?
Contact Katy today at fundraising@endometriosis-uk.org.
All our Pink Pants Challenges are supported by DiaryDoll. All participants taking part in a Pink Pants challenge will recieve a free pair of DiaryDoll knickers. Sizes subject to availability.
When
1st October, 2016 8:30 AM through 6:00 PM