12 women share their experiences to raise awareness and help others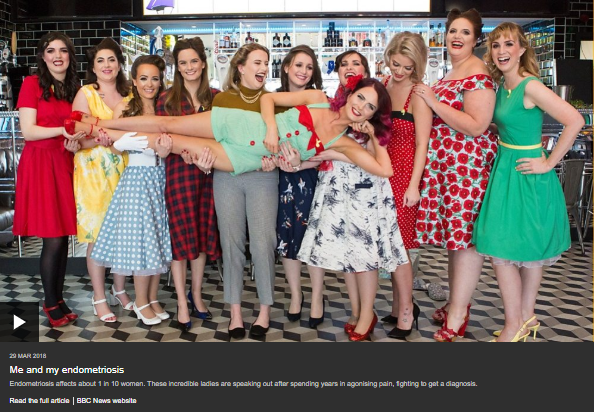 Film from the BBC News website.
Filmed by Lucy Green and Charlotte Pritchard
Edited by Charlotte Pritchard
Produced by Natalie Truswell
Hi, my name is Emma and I'm 32. I am a Mum of 1 absolute miracle of a child and married to the most incredible husband. From the outside, you would think I am an average woman, with not a care in the world, who is as fit as a fiddle. What most people don't realise is that underneath my smile, is the chronic pain and fatigue that I face every single day, brought on by the chronic illness endometriosis. Having had endometriosis symptoms from starting my periods at the age of 10, but only being diagnosed at the age of 21, Endometriosis has had a devastating impact on my life, both physically and emotionally. It has taken away my chance of having the big family that I craved from a young age, with having to have a hysterectomy at the age of 31 and the chance of being able to work due to having 9 surgeries.
I had previously raised £550 for Endometriosis UK and I wanted to do more. My Aunty had given me a calendar from another charity raising funds and that's when my husband said to me that I should go for it, to raise funds by getting girls together with endometriosis. As you can imagine, making a calendar requires a lot of people for their expertise and also costs a lot of money. I was incredibly fortunate that all the photo shoot, from the venue to the photographer, was all free. As far as raising funds, I put together a raffle where local businesses donated incredible prizes and friends of mine also put together the most amazing afternoon tea. To find models I put out an advert on social media and I was blown away by the response. It really hit me just how many girls out there have been through so much because of endometriosis and how much it has affected their lives. The girls in the calendar are amazing. Each and every one of them are strong, passionate and determined to have their voices heard. All of this makes me more determined to spread awareness, so that no girl ever has to go through what I have and still have to go through every day.
You can also follow Emma on Instagram @mummyspaininthearse