Make some noise this awareness month and support women with endometriosis by getting together and throwing a party with your friends!
Date: March 2018
Place: In your own home
About Endo The Night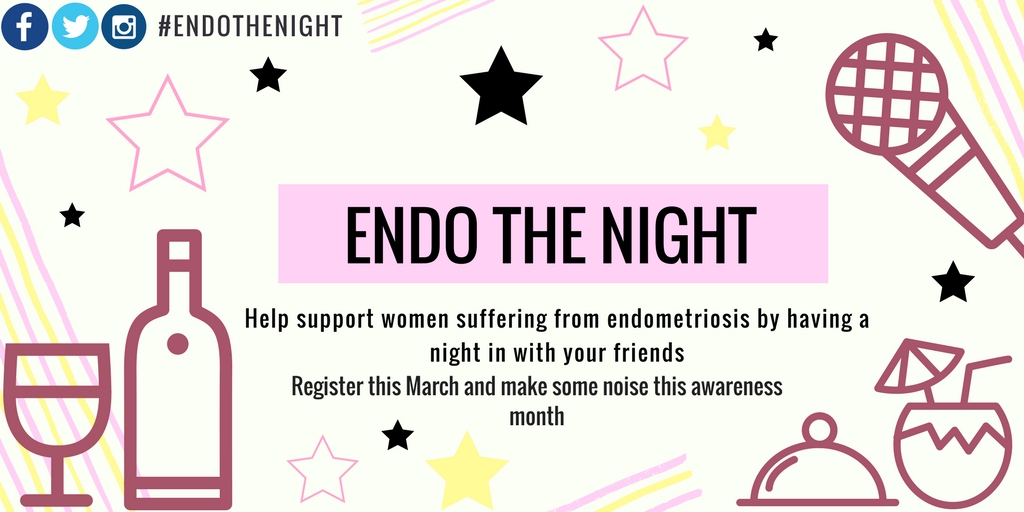 You can get involved in our awareness month and raise money for Endometriosis UK by organising a big night in with family and friends.
Here are some ideas to get you started: 
Dinner party
Book Swap
Craft Night
Cocktail or MocktailParty 
Clothes Swap
Pamper Party 
Quiz Night 
Raffle or Auction
Why fundraise for us?
Our fundraisers mean the world to us and are vital in helping us provide support and information to women with endometriosis.
The money raised from your support will help us continue to provide vital support and high quality information to those affected by endometriosis. We receive minimal funding to run our support groups and free helpline service, every penny you raise will help make a difference. 
Sign up
We would love for you to join us in raising awareness and funds, so please sign up today and receive your free Endo The Night fundraising pack!
Any questions?
Contact us today at fundraising@endometriosis-uk.org.
When
1st March, 2018 9:30 AM through 31st March, 2018 11:15 PM