Join us for the Worldwide EndoMarch: UK 2015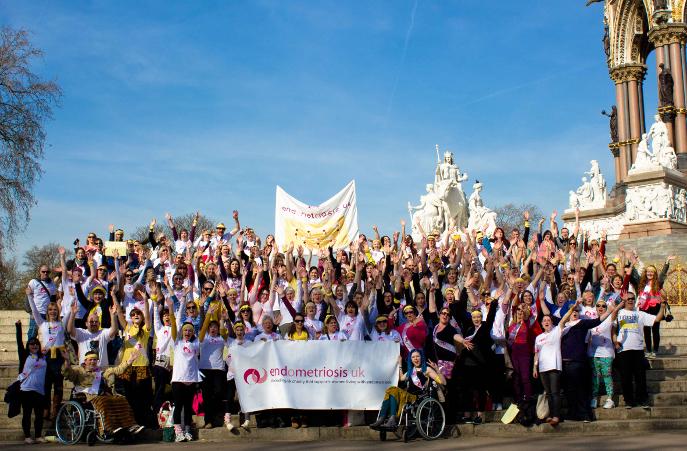 Date: Saturday 28th March 2015
Fee: Free
Place: Central London 
Distance: Estimated 2-3 miles
Intensity level: Low
About Worldwide EndoMarch: UK
We will be marching through the streets of London with the hope of promoting awareness for endometriosis and the need for faster diagnosis, greater education and more funds for research into better treatments and an eventual cure.
We would love for you to join us, so please sign up today!
Once registered, we will be in touch by email with the exact start point and route of the march. This will be at least 3 weeks before the event date
If demand is very high we may need to close the registration so please register your place as soon as you can!
For the second year running, women and their supporters across the globe will be taking part in a peaceful march about the plight of those who suffer from endometriosis. We really hope you will be part of this event that Endometriosis UK is supporting.
On Saturday 28 March 2015 between 12noon and 3pm (GMT) we will be marching through Central London including Victoria Embankment, Parliament Square and Trafalgar Square. This is the chance for all of us suffering from endometriosis or supporting someone who suffers to come together and make our voices heard, feel involved in high profile awareness raising and just meet other people in the same situation.
This march is free of charge to join however, it's important to note that all participants taking part are responsible for their own health and safety.
If you cannot manage to come to London for financial, geographic or health reasons there are lots of other ways you can support this movement. More details about all of this are in our FAQ document below. We will be Tweeting and posting on Facebook, so please 'like' our Facebook page Worldwide EndoMarch UK 2015  and follow us on Twitter at @WWEndoMarchUK
Once you have registered please send a request to join our Facebook group (closed) - Worldwide EndoMarch UK 2015, which will be used for sharing details nearer the time and for attendees to ask each other questions.
Finally we would like to invite you to help raise awareness of Endometriosis and the Worldwide EndoMarch 2015 by sending a letter to your MP and / or GP requesting their support. The letters can be found below.
Join us in person or in spirit and help raise awareness!
Best wishes,
Worldwide EndoMarch UK 2015 Committee
Any questions?
Contact us today at mwm@endometriosis-uk.org.
When
28th March, 2015 12:00 PM through 3:00 PM
Location
Central London




London

,


United Kingdom