Celebrating Volunteers Week: Campaigning for change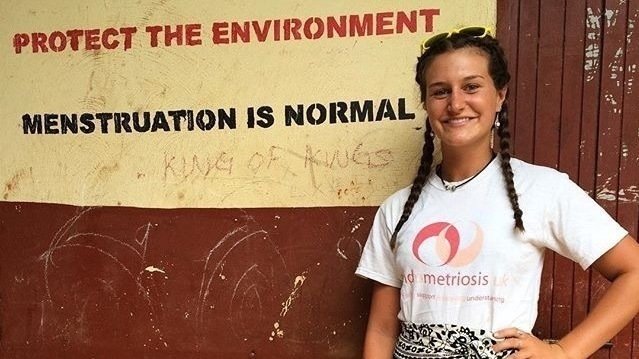 Our volunteers are at the heart of securing real change for others suffering with endometriosis. Today we're celebrating Alice Smith – our Young Ambassador – who this year successfully persuaded the Government to include menstrual wellbeing in the school curriculum in England from 2020.
For too long, periods have been a taboo, and Alice has been the catalyst for changing that.
Alice Smith started volunteering for Endometriosis UK in 2013 at the age of 18, when she became Young Ambassador for the charity. She then soon joined the Board of Trustees - and has had a huge role to play ever since. 
Her passion has always been to raise awareness of endometriosis amongst young women, and to break down the taboos surrounding periods and menstrual conditions like endometriosis. Alice started experiencing severe gynaecological pain when she was only 12, and at 14, her quality of life was non-existent and she could no longer attend school. She suffers from severe endometriosis – and is in pain every single day.
Having missed a large chunk of her education, Alice was inspired to work with Endometriosis UK to ensure other women don't go through what she did. She knew a key part of changing the way society viewed conditions like endometriosis was through education, and ensuring women are knowledgeable about what is and isn't normal when it comes to their menstrual cycle, and in turn, feel empowered to seek help when something isn't right. In 2017, she launched a petition "Stop treating periods like a dirty secret; teach menstrual wellbeing in schools" to call on the Government to change the curriculum to ensure both young men and women are taught about the menstrual cycle. In launching the petition, we heard thousands of stories through the #WhatIWishILearned social media campaign of other women, just like Alice, who wish they'd been given the education they needed at school to know that what they were experiencing wasn't normal.
107,000 signatures later, the Government agreed to change the curriculum to include menstrual wellbeing for schools in England from 2020. This change is a huge victory for all children who will now be taught what is and isn't normal when it comes to their menstrual cycle, and in turn, help reduce diagnosis time for endometriosis which averages at a shocking 7.5 years. This campaign will undoubtedly help remove the taboo around periods and empower an honest and open conversation between both young boys and girls about the menstrual cycle. Without this change, conditions like endometriosis, PCOS, PMDD, and fibroids would continue to go underdiagnosed and young women would not have the knowledge to seek help.
As part of the campaign, we have met with Ministers, MPs, press, and the public to raise awareness and get the word out. As just a few examples, Alice has appeared on This Morning and was also Stylist's Woman of the Week in 2018 for her efforts.
Alice's tireless campaigning has meant the next generation of women won't suffer in silence the way she and so many others have. 
Thanks Alice!
If you want to get more involved in our campaigns, get in touch by emailing communications@endometriosis-uk.org