Celebrating Volunteers Week: Being a Support Group Leader
All week we are shining a spotlight on just some of our amazing volunteers to celebrate Volunteers Week. In today's first post, we look at what it's like to be a Support Group Leader with Vicky Chapman, who recently set up a new support group in Dundee.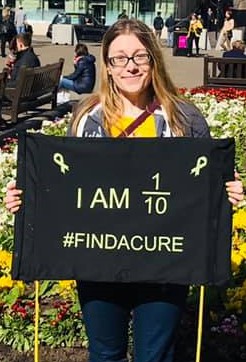 Firstly, why did you set up a support group?
Towards the end of last year, I started attending the support group in Fife (around 50 miles from where I live) and found it to be hugely beneficial speaking to others who simply understand what living with endometriosis is like. 
I was inspired by the support group leaders and decided to explore setting up a support group locally in Dundee.  The aim of the group is to provide a safe and supportive forum for those in Dundee and the surrounding areas with suspected or diagnosed endometriosis to share experiences. 
What was the process like to becoming a support group leader?
After making contact about setting up a group in Dundee and submitting my support group leader application in October, I was interviewed in early November and received my training in January.  I was kept updated throughout this process. The group is still in its early stages, having only had 3 meetings thus far, but I'm pleased with how things are progressing.  We have our first guest speaker at our June meeting so I'm excited about that too. 
I think something that I'm still learning is that it doesn't matter how many people come to the meetings, even if it's just one as you're still supporting someone. 
Why do you volunteer with Endometriosis UK?
I have never done any volunteering before but after being diagnosed with endometriosis myself towards the end of 2017 and having time to come to terms with it, it made perfect sense to me that I volunteer with Endometriosis UK in order to raise awareness of the condition and support others going through their journey. 
Do you have any advice for anyone else setting up a group?
Have faith in yourself – I'm not the most confident person but I'm doing it, making new connections and enjoying seeing the group grow. The head office staff and other support group leaders are always there to provide advice or bounce ideas off of too, we're a good group!
Finally, what's the most enjoyable thing about being a volunteer?
I feel that I am doing something good with my diagnosis by being able to share my experience.  I like meeting new people and the group is certainly helping me to make links with the community and raise awareness of endometriosis in my local area. 
Interview by Devon-Clare Banfield. 
Feeling inspired and want to get involved in a local support group? For all our volunteering opportunities, click here or for more information email support@endometriosis-uk.org