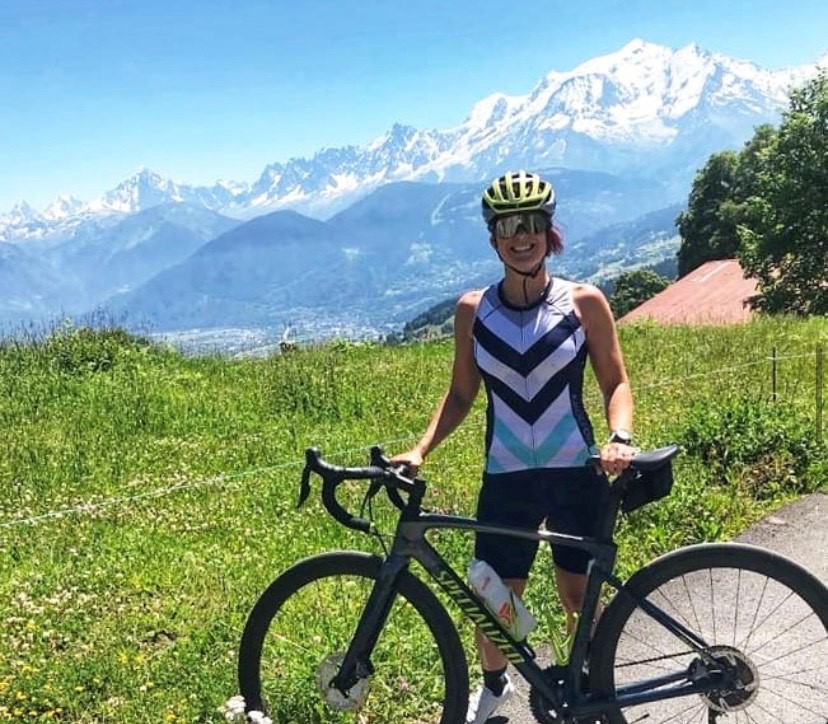 This year, Andrea Mason is attempting a new World Record– all to raise awareness of endometriosis, whilst raising funds for Endometriosis UK. What a hero! 
Andrea will attempt to swim the three longest lakes in Wales, England and Scotland, run the three highest peaks in all three countries and cycle between all of them. This is the equivalent of swimming 65km, cycling 800km, and running 44km up three mountains – in just five days. 
This is Andrea's story:
Could you start by telling us a little bit about yourself and your journey with endometriosis?
I am Andrea, a passionate sports person with an extreme sense of adventure.  I am a proud dreamer always thinking about crazy things that I would like to achieve.  To the outside world, it looks as though I live a normal and somewhat successful life.  They are not wrong, but what people don't see are the struggles I have faced along the way with endometriosis and other gynaecological conditions. 
My journey with endometriosis started at a very young age. Growing up I had become renowned for fainting, having stomach pains and always being tired. For many years I was repeatedly told that it was all in my head, or it would be put down to the fact that I was extremely sporty and undergoing a rigorous training routine.  From my very first period, I would always have pretty excruciating pain. I didn't really talk about it, because at that age it was embarrassing and besides I didn't know any better, so just assumed it was normal! As the years went by, it got gradually worse. 
There would be many a night that my Mum would take me to A&E because I was in that much pain. The, routine would always be the same, the results would always come back clear, I would be sent home with painkillers and told to go to bed with a hot water bottle. On one occasion (when I was just 14), I coincidently had an infection that resulted in a fever, so with the other presenting symptoms I was rushed down to the operating theatre and had my appendix removed. Later I was told that there was actually nothing wrong with my appendix, but they removed it as precaution anyway!
Despite the increasing pain and fatigue, I continued to train and I continued to compete at a high level. People within my sporting family could be forgiven for thinking that I always fell short of my full potential because I was over trained and put a lot of pressure on myself. In the end I actually started to believe this myself. After many sports' psychology sessions and no improvement, I eventually gave up competing. I had reached a certain level and achieved things that many people could only dream about and for that I will always be grateful.
Deep down though I always knew it was something more. After giving up my intensive training regime, I continued to experience the same problems. In fact, my symptoms were getting worse and I was growing increasingly concerned about the new symptoms I was experiencing, heavy periods, extreme bloating and headaches.
After graduating in 2005, I started working for a multinational company. Following a referral to a gynaecologist, I was recommended to have an investigative laparoscopy. The results showed that I had severe endometriosis.
It was a huge relief to finally be able to confirm that there was actually something wrong with me. However, it was also a bit scary and confusing. At this stage I had no idea how to pronounce it, let alone understand what Endometriosis was.  I went on a google mission to try and understand it, but back then information was extremely limited. What followed was 12 years of operations (10 to be precise), continuous pain and fatigue, and more hospital meals than I care to imagine – it's safe to say that my journey has not been fun! When I reflect on it now, I have no idea how I managed to keep going, let alone progress my career and throw a few ironman triathlons and endurance races into the mix.
Fact is I realised quite quickly that this illness was with me to stay; I didn't cause it, I wouldn't be able to control it and there was no cure, so I would simply have to learn how the hell to live with it! One thing was for sure, I wasn't going let it define me or hold me back – I am too darn stubborn to let that happen.
I therefore set about dealing with it in the only way I knew how – pushing my limits.
Through setting myself endurance challenges (which I love), I would create a different type of pain. This pain was fuelled by endorphins and make me feel good; I would forget about the pain being caused by my endometriosis and I would associate all other pains to over exercising and not my illness.
Now, this is not a new proclaimed therapy, so please don't try this at home! I am not superwoman – reality is there are days when I am in a lot of pain and feel so tiered that I undoubtedly do more harm than good!
I have also suffered from other gynae related issues (adenomyosis and large fibroids).  In July 2017 at the age of 35 I had to undergo a full hysterectomy, not for the Endo but for the other conditions.  However, since then my pain has reduced significantly and I have far fewer flare ups.  I have had a few endometriomas since, but we just keep an eye on those for now.  I have no doubt it will come back with a vengeance at some point, but for now I am enjoying the respite whilst it lasts. 
Could you tell us about the Sea to summit challenge?
Sea to Summit Extreme was born out of my desire to push my own personal boundaries and use it as a platform to raise awareness of Endometriosis.  I love pushing myself both physically and mentally. It is here I truly find out who I am and what I am capable of. My philosophy is 'create your own epic,' I believe in being the best you can be and not comparing yourself to others. Last year, I put this to the test when I set out about trying to swim across the English Channel, Cycle 900km across France and then climb Mt Blanc.  I completed the entire challenge in just 4 days and 20 hours, defying the odds and proving we really can do anything we set our minds too.  
This year, in September, I will be attempting to swim the 3 longest lakes in Wales, England and Scotland, run the 3 peaks in each respective country and then cycle all of the pieces in between.  That is 65km of swimming, 812km of biking and 42km of running or mountainous terrain - the target just 5 days.  
You're raising an incredible amount of money that will go such a long way in making sure we can be there for people with this condition. Thank you! What motivated you to take on such a big event to raise money for Endometriosis UK and awareness of the condition?
Whilst I was recovering from my hysterectomy in 2017 I decided that I wanted to do something really big that I could use as a platform to raise awareness of Endometriosis.  I had also unfortunately just been diagnosed with cervical cancer and also wanted to go on a mission to ensure all women and girls have their cervical smear tests - I hadn't had mine and if it wasn't for the hysterectomy I wouldn't have known until it was too late. 
Endometriosis UK has helped me significantly throughout my journey, so I wanted and still want to ensure I continue to give back.  The material produced by Endometriosis UK is invaluable and the worm they do to campaign for great awareness truly makes a difference to the lives of young women and girls.  My dream is for endometriosis to be as understood as other common ailments.
How can people follow your journey?
You can follow me on:
Facebook: @seatosummitextreme
Instagram: @seatosummitextreme
Or find out more information on my website www.seatosummitextreme.com
If you could also share it would be super appreciated, the more people we have join the more funds we raise for Endometriosis UK.
What message would you like to give people who might be reading this at home who have just been diagnosed with endometriosis?
As hard as it is, don't let endometriosis define you.  Seek the help that you need and don't stop until you get it.  Educate yourself and others and most importantly don't be ashamed, talk about it openly as this truly is the only way we can create awareness.
---