Endometriosis UK is calling on the Scottish Government to include a commitment to menstrual wellbeing education in Scotland's schools in the upcoming Programme for Government. Menstrual wellbeing is already a mandatory part of the curriculum in England, but not in Scotland.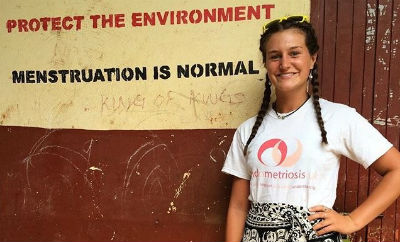 Scottish Labour Health and Social Care spokesperson Monica Lennon MSP, who is also the Convenor of the Cross Party Group on Women's Health said:
"Scotland's schools have become world-leaders in the provision of period products and menstrual wellbeing education would be a positive next step. A nationally available toolkit for teachers could help young people learn about periods, reduce stigma and know when to seek help for abnormal pain or bleeding. Menstrual health education is already taught in England and it would be great to see the Scottish Government making this possible in Scotland's classrooms too.
Next week's Programme for Government is a timely opportunity to make this happen and I hope Ministers will give endometriosis campaigners the massive boost they deserve."
Faye Farthing, Campaigns and Communications Manager for Endometriosis UK, said:
"For too long, menstrual health conditions have been silenced and it's vital the Scottish Government understands the impact conditions like endometriosis and others can have on a person's education and makes menstrual wellbeing education a reality for all pupils.
 "The Scottish Government has a key opportunity in its Programme for Government to ensure future generations are supported and given the education they need to make informed decisions about their health. An understanding of what is and isn't normal when it comes to the menstrual cycle is the first step to empowering people from a young age to seek help if it's needed. Without learning about the menstrual cycle at school in a safe and controlled environment, menstrual conditions will continue to go unrecognised, marginalised and misunderstood.
"It cannot be assumed that everyone is comfortable talking about menstrual health in the home, and those from minority communities may find it particularly difficult to discuss issues around menstruation at home due to additional cultural barriers that many will face, and it's therefore key that menstrual wellbeing education is delivered at school via reliable, accurate information about menstrual wellbeing.
"The Scottish Government has already taken huge strides in supporting the Member's Bill by Monica Lennon MSP to tackle period poverty and raising awareness of other menstrual health conditions such as endometriosis. We hope the Government now recognises the huge importance of compulsory menstrual wellbeing in schools and continues its commitment in supporting young people reach their full potential".
From September, menstrual wellbeing will be mandatory in schools in England. But we need this to be UK wide. Keep an eye on our website and social media for an update on the campaign in Wales, Scotland and Northern Ireland and how you can get involved.
---