#TooLong Campaign
Currently, the average time to diagnose endometriosis is 7 years. This is #TooLong and constitutes an injustice for women and girls across the country.
Take part in our #TooLong Donation Campaign: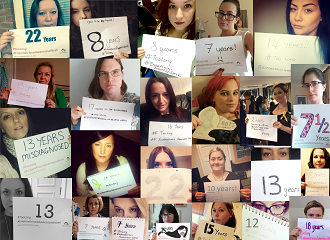 We asked our supporters to share their diagnosis time in a #TooLong selfie. Below are a selection of the photos.  
If you want to take part, take a picture of yourself holding a piece of paper which states how long you waited for your diagnosis. Add the hashtag: #TooLong and publish it on Twitter or email us. You can download a template HERE.
Thank you to everyone who has sent in photos so far!
These photos also appear on our Endometriosis Pinterest page.