#TooLong Campaign
Currently, the average time to diagnose endometriosis is 7.5 years. This is #TooLong and constitutes an injustice for women and girls across the country.
Please take part in our #TooLong Campaign and help us change this.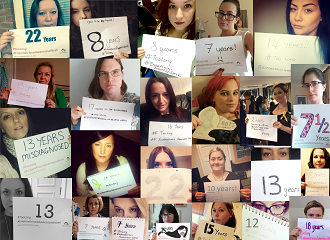 Do you have endometriosis?
If you want to take part, take a picture of yourself holding a piece of paper which states how long you waited for your diagnosis. Add the hashtag: #TooLong and publish it on Twitter or email us. You can download a template HERE.
Don't have endometriosis and want to help?
(Those with endometriosis are of course welcome to do this too!). Help raise awareness and you could help someone to get a diagnosis. Please circulate this symptoms poster and/or flier. We need to inform women so they get diagnosed, and are not ignored or their pain treated as 'normal'.
<
Thank you to everyone who has sent in photos so far!
These photos also appear on our Endometriosis Pinterest page.