Endometriosis Pathways
We are pleased to be joined by Dr CP Lim, Consultant Gynaecologist and Advanced Gynaecological Endoscopic Surgeon.
Dr Lim will be speaking about the medical pathways that can be taken with endometriosis.
You can register for this event by clicking here.
There will be a Q&A at the end of the talk. Please feel free to send any questions you may have in advance to supportmanager@endometriosis-uk.org with the title 'for CP Lim'
Please note that we can only answer general questions not questions on an individual's health/condition. Questions should also be relevant to the talk topic. 
All webinars are recorded and shared afterwards on our YouTube channel.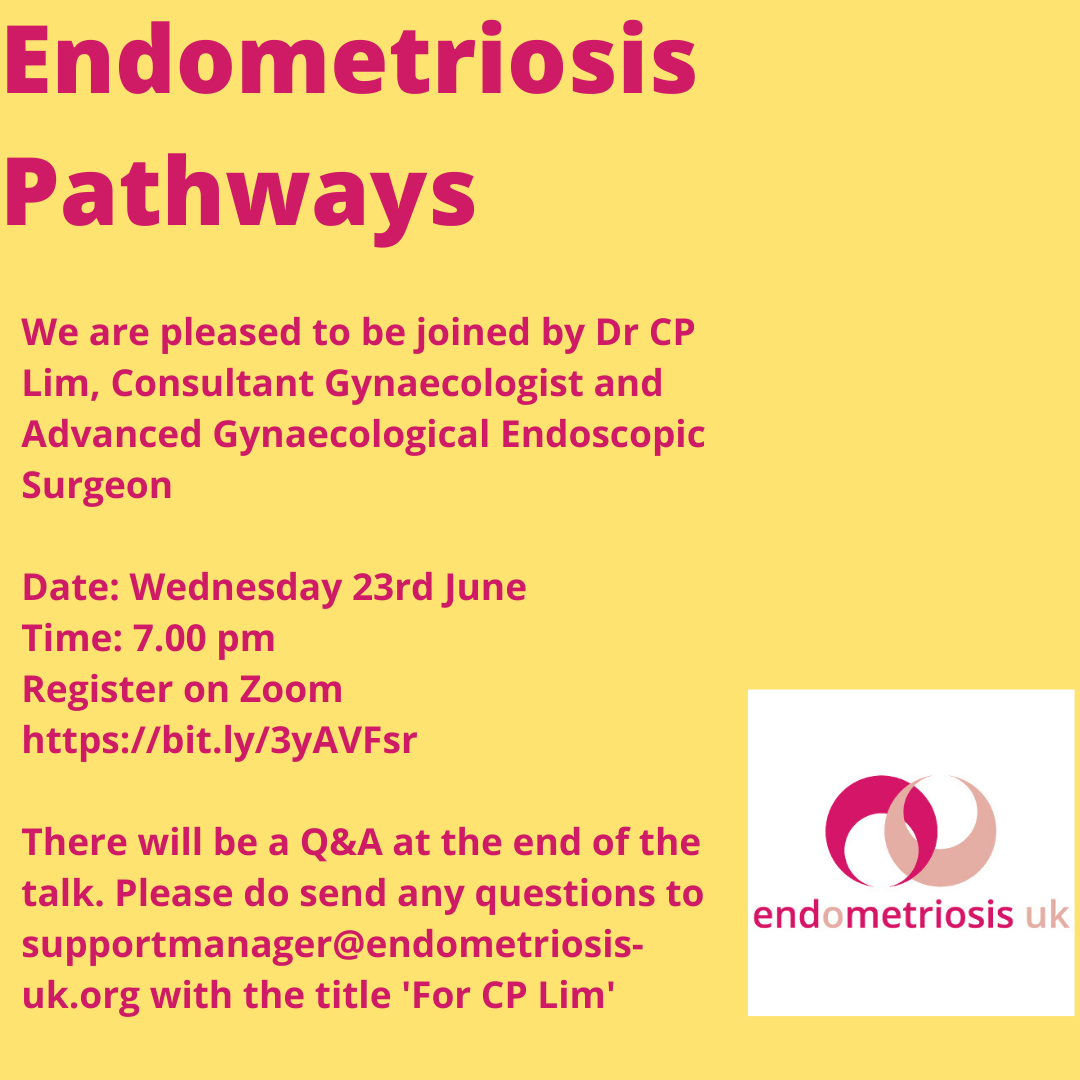 More about Dr Lim:
Dr Lim completed his medical degree at Southampton and his junior doctor training at Wessex. Afterwards he trained in general Obstetrics and Gynaecology. He has always had a keen interest in keyhole surgery and medical education.
In his senior years as a trainee, he was selected by Royal College of Obstetricians and Gynaecologists (RCOG) for their subspecialists in gynaecological endoscopy training programme. The programme had an intensive focus in gynaecological endoscopy and endometriosis. During this time he trained at James Cook University Hospital, Middlesborough and Royal Victoria Infirmary, Newcastle. For decades, these centres have been attracting referrals of complex gynaecological cases from across the North East of England and beyond. 
In 2018, Dr Lim was appointed consultant at East and North Hertfordshire NHS Trust with a specific aim to improve the laparoscopy service and the care for those with complex endometriosis and pelvic pain.
When
23rd June, 2021 7:00 PM through 8:00 PM
Location
Online - Zoom
United Kingdom